Internship at Information Makers B.V.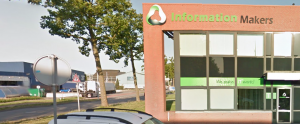 Are you an enthousiastic student of Graphical Media Technology, Informatics, Technical Informatics or Communications & Media Design? And are you looking for an interesting internship near Rotterdam?
Information Makers, an independent software company that develops dynamic web-applications for wide business mainframe systems is looking for enthousiastic students who want to get acquainted with designing and developing of front-end applications for i.e. IBM iSeries systems (DB2 databases) with applying techniques such as SOA, Webservices, Java, JSP en .NET.
Options for applying for the introduction-stage and/or work and finish your thesis at our company are some of the possibilities.
What we have to offer:
An inspiring atmosphere where you can work on projects independently and with guidance.
Possibly work on larger projects together with another student.
Interesting internship compensation + study opportunities and a possible permanent position.
Fun projects in which you can use your knowledge and gain new experiences.
Various assignments that are executable at various levels.
Clients throughout Europe (If wished for/when possible you can be deployed abroad if you want so yourselves!)
What are we looking for?:
Enthousiastic students who want to work alone or in groups on exciting IT projects.
Bachelor think or work level and a relevant study or interest in IT.
Affinity or knowledge of one or more of the below:

System development through one of the following languages:

Java
Javascript
HTML & CSS
SQL (DB2, MariaDB)
Mobile Development

System design and Database design.
Database Construction and Maintenance through SQL.
Do you recognize yourselves in some of the above profiles, please let us know!
Interested?
Send us a message using the 'Mail us' form.